Hilton first got my attention earlier this year when Ackman doubled down. This was after his incredible timing (both with buying and selling) with his hedge, profiting over $2b (on a $27m premium) during the sharp drawdown in March.
I follow Ackman's 13F closely because of his investment philosophy—identifying a simple, predictable business which is cash generative, has a moat and is able to grow profitably.
Simple businesses with not a lot of moving parts are my favorite.
The Truth about Hotels
Because of its cyclical nature, a traditional hotel company's earnings are extremely lumpy. When times are good, the tourism sector or business travel would boom, driving up the Revenue Per Available Room (RevPAR) during good times.
On the other hand, when times are bad, RevPAR will fall through the floor. During recessions or pandemics, demand for travel dries up along with their earnings.
In order to grow, hotels need a huge upfront capital which is locked in for building up extra units. This often results in taking up huge loans during good times for expansion and then struggling with paying back the debt during downtimes.
With huge capital requirements, the normalized return on invested capital (ROIC) would inevitably be dragged down. And we know that when ROIC is lower than COC, any efforts to expand will reduce shareholder returns.
So this begs the question—why would Ackman be interested in Hilton?
Hilton's Business Model
The cat is out of the bag. Similar to Domino's, Hilton runs a capital-light franchise business model. Approximately 95% of Hilton's operating income comes from collecting management and franchise fees.
The bulk of Hilton's properties are on the franchise model. With 942,307 rooms on the franchise model compared with 20,557 rooms on the ownership model.
Over the decade, Hilton has been able to grow fees at 11% CAGR. From $814m in 2009 to $2,272m in 2019. This is vastly different from the lumpy revenues shown by most hoteliers.
They are able to grow at a meaningful pace despite being in a traditionally capital-intensive business because they are using other people's money to grow!
I mean, take a look at their growth plan which requires $50.25b in investments. Only $0.25b is coming from Hilton!
The rest of the expansion plan (i.e. $50b) will be funded by third parties—their franchisees.

Management fees collected are typically a function of monthly gross revenue and an incentive management fee, which is a percentage of the hotel's operating profits.
On top of the management fees, each franchisee will have to pay a one-off application fee and a recurring royalty based on the monthly room and F&B revenue.
Furthermore, like Domino's, franchisees are the ones paying for most of the marketing and all other expenses.
Hilton Honors
Similar to Starbucks, Hilton is one of the first in its industry to introduce a loyalty program. In fact, they have been the first in a number of initiatives: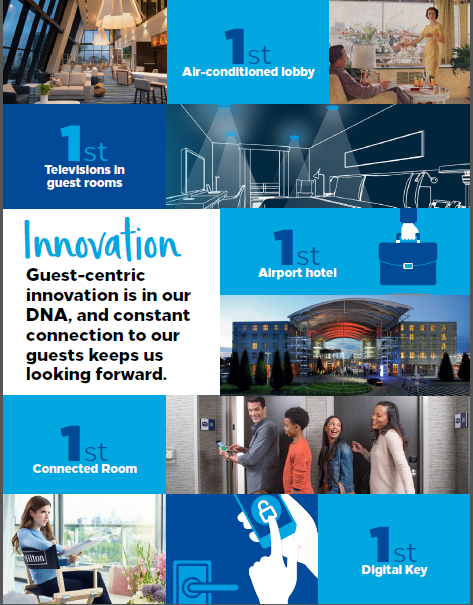 Having a loyalty programme encourages repeat purchases, turns first-time buyers into brand advocates, and allows the company to have data on consumer spending habits.
In fact, research has shown that repeat customers spend 67% more than first-time customers.
Here is what Hilton has to say about their Hilton Honors:
Being a Hilton Honors member has many benefits. This is reflected in their ability to drive membership numbers at a 16% Compound Annual Growth Rate (CAGR). From 36m members to 110m members from 2012 to 2020.
Apart from being able to offer end-to-end experiences to their guests, Hilton is now able to collect a ton of data on their guests, allowing further refinement of guests' experiences.
Ackman's Thesis and COVID-19
You can find Ackman's pitch on Hilton below:
And here is what he has to say about COVID-19's impact on Hilton:
What is unclear is COVID-19's long-term impact on business travel. Ackman believes that business travel will resume in phases. While Zoom is able to replace the routine meetings, it is hard to imagine that it can replace networking or sales pitches altogether.
Vacation travel is bound to recover and is likely to return with a vengeance. Furthermore, this pandemic is likely to strengthen big players who are in a better position to navigate and survive this crisis.
Thank you for taking the time to read my blog.

If you're enjoying the content so far, I'm sure you'll find 3-Bullet Sunday helpful.

As an extension to the regular posts, I send out weekly newsletters sharing timeless ideas on life and finance.

I do not share this content elsewhere.

Join others and subscribe to our newsletter today to receive a free investment checklist!