I initiated a stake in Fastly recently to make myself follow through on diving deep into this company.
So what piqued my interest with Fastly?
They reported a strong set of Q2 results, with revenue rising 61.7% year-on-year. It was also the first time their EPS became positive, at $0.02 per share. Yet its share price took a hit and declined 33%, largely due to Donald Trump threatening to ban TikTok, which accounts for 12% of Fastly's revenue.
Even if TikTok were to be banned, I see this as a temporary blip to Fastly's prospect. Fastly mainly serves enterprise clients. Many of the leading digital companies chose Fastly's edge computing capabilities due to its capabilities, speed and reliability.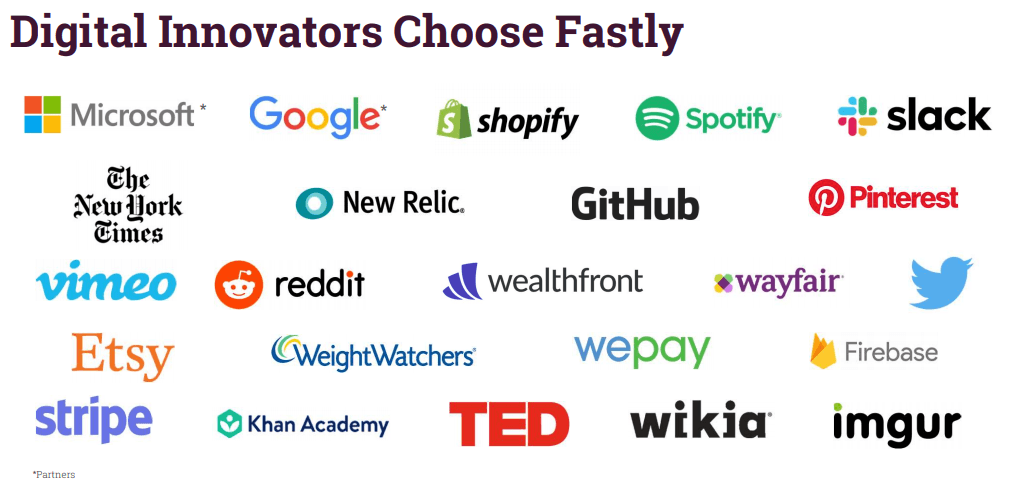 It is worth noting that they have recently bagged Amazon and Shopify as their clients. With both of them enjoying the tailwind of e-commerce acceleration due to COVID-19, Fastly would stand to benefit as well.
Without further ado, and without being overly technical, let's jump into what Fastly does!
What Problems Does Fastly Address?
Traditionally, when we listen to music on Spotify or stream videos on Netflix, our request first travels all the way back to the data center (or the cloud). It is processed at the cloud before the content (along with recommendations for our next song or show) is delivered back to our devices.
This would usually not be a problem. But with increasing devices and applications moving to the cloud, shared bandwidth becomes a problem.
And this is what happens:
I hope you did not stare at the above gif for too long. I'm just trying to illustrate that high data usage (i.e. increased load) would increase the latency (i.e. response time).
We know how detrimental this would be for user's digital experience.
To give an idea of how much data is running on our networks:
Given how much data is running through our networks, the huge load and distance between user and cloud data centers are bound to increase latency.
Any lag would be detrimental to time-sensitive operations such as self-driving cars, smart hospitals, etc. And of course, it'd also be detrimental to those of us streaming on Spotify and Netflix.
This is where Fastly's edge computing capabilities come in to solve the latency issue—by bringing data processing closer to the edge of the network where the raw data is generated.
Edge computing sits closer to the users. For a Netflix user in New York, rather than having the request traveling to a remote data center (e.g. AWS data center) and getting processed together with millions of other users' requests, it gets processed at an edge computing server locally. These servers, referred to as Points of Presence (PoPs), are closer to the user.
Apart from ensuring fast and smooth streaming, edge computing is smart and is able to ensure that the right type of content is served each time by allowing for more on-device computing and analytics. The cloud is able to do these as well, but with millions of requests going to the cloud at the same time, latency is drastically increased.
By being strategically distributed in city hubs, edge computing reduces latency by reducing the distance traveled and by distributing the load each server has to process.
Edge computing also helps reduces cost as cloud (e.g. AWS and Azure) is on a pay as you use model. Edge computing reduces cloud usage and thus brings down cost.
An example would be the use of security cameras that automatically upload the videos onto the cloud. Edge computing is smart—users can program it to upload only videos with motion onto the cloud for further processing, as opposed to uploading the entire 4k video onto the cloud.
Hence, Fastly essentially solves two problems — reducing latency and bringing down costs for its customers.
Developer-Focused
For enterprise software providers, winning over developers' hearts is critical.
With a developer-focused usage-based sales model, companies like Datadog, Twilio, and Fastly empower the developers, who are the closest to the products being built to make the purchasing decision.
Fastly is developer-centric with a strong appeal to the developer community because of their advantages in performance, security and programmability.
This is opposed to the traditional model where a single buyer signs a huge contract on behalf of the entire company. An individual developer can proceed to Fastly's website, register and starting building on their new idea in less than 30 minutes.
Large and Growing TAM
According to research firms, MarketsandMarkets and IDC, content delivery network (CDN) & Streaming and App Services & Security at the Edge are estimated to be a $35.4 billion by 2022 and is expected to continue growing at a high clip.
Fastly's trailing-twelve-month (TTM) revenue is currently $845 million. They are in a good position to continue eating up market share as they continue to innovate and rapidly roll out new product offerings in edge computing.
Metrics to Keep an Eye On
Revenue: As with any growth companies trading at high valuations, it is important that they are able to sustain a high growth rate. Due to their strong Q2 revenue growth of 61.7% y-o-y, management has guided for Q3 revenue growth of 49.6% y-o-y.
Dollar-Based Net Expansion Rate (DBNER): This represents how much existing customers spent today compared to previous years. With a focus on large companies as opposed to their competitors (e.g. Cloudflare who focuses on SMBs), customer curation allowed Fastly to achieve the best-in-class DBNER.
DBNER was up 133% in Q1 and 132% in Q2, meaning their customers increased their spending by by 33% and 32% respectively y-o-y. As a rule-of-thumb, anything above 120% is excellent.
Number of customers & average spend per customer: We want to see that Fastly is able to keep grabbing market share. Total customers count increased to 1,951 in Q2, representing a 20% annualized growth.
Enterprise customers increased to 304 in Q2, from 262 the previous year. Enterprise customers are defined as accounts which spend in excess of $100,000 over the year.
Average enterprise customer spend grew 29%, from $556,000 in Q2 2019 to $716,000 in Q2 2020.
Gross margin: Gross margin was 56.7% in Q1 2020 and jumped to 61.7%. Management attributed this to improved efficiency in the operating model. As they continue to introduce high-margin products and scale, management expects gross margins to improve to 70%.
Why Companies are Investing Heavily in Cloud
Ultimately, it boils down to its value proposition — creating a win-win situation for all parties. The opportunities here are huge due to the cost savings and increased capabilities it can provide.
Final Words
Fastly is still a young company at its early innings with its moat still being developed. Compared to my other investments which form the core of my portfolio, Fastly is expected to experience higher volatility (which is not necessarily a bad thing).
Traditional metrics such as P/E ratio would not work for reasons covered in my previous posts. You may check them out below:
In my future posts, I will be covering Fastly's risk, management, competitors, and valuation. Subscribe to the newsletter to follow along!
So far I have been able to publish at least one article per week and hopefully that has been value-adding to you!
I aim to publish two articles over the next month to spend more time catching up my backlog of reading and to do a deep-dive into other companies that have piqued my interest.
Disclaimer: This is not a recommendation to buy or to sell securities. Please conduct your own due diligence or consult your advisor. I merely write to improve my investment and thought process.